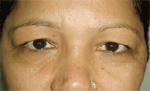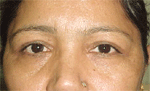 Eyes are beholder of beauty. Whenever we meet and greet somebody our eyes make the first contact. Glowing eyes surrounded by well-toned clear skin of the eyelids are of paramount importance for the beauty. Eyes are also the first indicators of the advancing age. Loose wrinkled skin of the eyes, drooping eyebrows and eyelids, presence of bulgings and baggy eyelids can give a tired and aged looks to a person. Presence of excessive wrinkles or 'crows feet' on the outer corners of eyes can be unattractive sometimes.
Blepharoplasty or correction of all such anomalies to an extent can make a lot of difference in the outlook of a person. This is the reason that eyelid cosmetic surgery is the most commonly done procedure in elderly males and females.
Operative and post operative:
The surgery is performed under local anesthesia and is totally painless. Depending upon the defect either upper, lower or all four eyelids can be operated upon in the same sitting. After the required markings over the eyelids the excessive skin folds are removed along with fat bulgings from under the eyelids. Lower eyelid margins sometimes require tightening procedures. Tightening or shortening the muscles corrects upper eyelid droop. Outer laugh lines or crowfeet wrinkles are reduced but may not be fully eliminated. Wounds are closed and ointment is applied over the stitch line. Eyes are not bandaged. All cases are discharged the same evening. For first 2 to3 days swelling and redness persist around the eyes and starts getting better thereafter. All stitches are removed on 5th or 6th postoperative day. The fine stitch lines are visible initially but blend nicely with natural skin folds in about a month's time.
Uplifting of the eyebrows is usually undertaken at a later date or combined with forehead lift.
Results and complications:
The youthfulness that is achieved after this surgery is appreciable as early as a week after removal of stitches. Most of the cases appreciate the clean looks after this procedure. The preoperative difficulty and effort in opening the eyelids is reduced and the tired looks disappear.
There are no fatal complications. Excessive swelling may result from bleeding but is manageable. Eversion of the lower lid margin giving a pulled down look may occur due to over resection or lack of adequate support due to lax margin. This is correctable by some tightening procedures of the lower lid margin. Persons with dry eye syndrome or lack of tear formation need more care. Extremely rare, loss of eyesight has been reported in medical literature due to abnormal bleeding inside the eyeball.