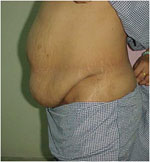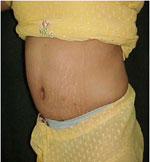 Liposuction is a procedure for removing fat by suction method. It is also known as Lipoplasty, Lipo-contouring and Suction Assisted Lipectomy (SAL). This is basically a body contouring procedure by removing localized fat deposits. Amongst various Cosmetic Surgery procedures this is one of the most commonly done procedures worldwide.
Benefits
This is the treatment of choice to get rid of stubborn fat deposits anywhere in the body. Most commonly done areas include Face, double chin, arms, axilla fat, waist, abdomen, waist region love handles, side bulge at upper thighs, inner thighs, buttocks and knee joint region. Virtually any area with localised unwanted fat can be treated by this method.
Even after diet, exercise and gym training some areas fail to respond and shed off fat. Such areas are most effectively improved by this procedure. Depending on area 5 to 7 litres of fat can be sucked out in one go. However this is not a weight reduction surgery but body reshaping surgery. For weight reduction this is just an adjunct method along with other means.
Operative & Post operative
This routinely done procedure is painless and doesn't require overnight hospitalization. The area to be treated is marked and infused with medical fluid to enhance it. This is also called tumescent method. The fat is then sucked out through tiny 2 to 3 mm cuts by introducing specially designed cannulas which are attached to a suctioning machine through a pipe. After the unwanted fat has been sucked out area is covered with compression tapes and garments to prevent any fluid collection and swelling.
Patients are sent home by evening. They can resume normal light activity the next day. The compression garments are worn for about 3 to 6 weeks. Results are good and lasting. Whatever fat is removed does not come back in that region. This beneficial effect can be permanent if adequate measures are taken to avoid weight gain.
Complications
Like any other surgical procedure Liposuction also carries some risks. However incidence of major complication is remote with proper case selection and procedure. You are required to discuss with your surgeon all such complications during personal consultation
Dr VD Singh's VM Plastic Surgery Centre in Chandigarh is undertaking these procedures since last 15 years. Several patients from near and far have visited this centre for liposuction.